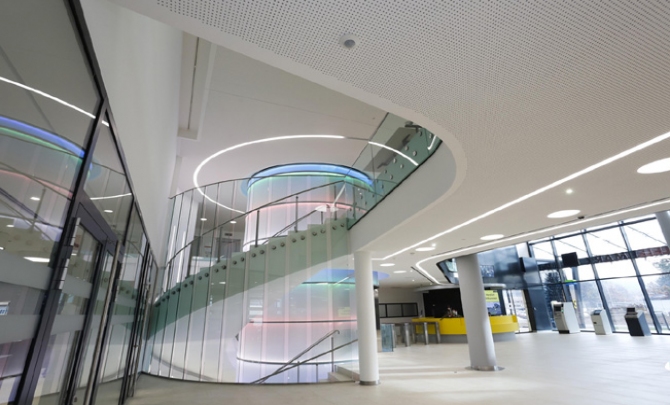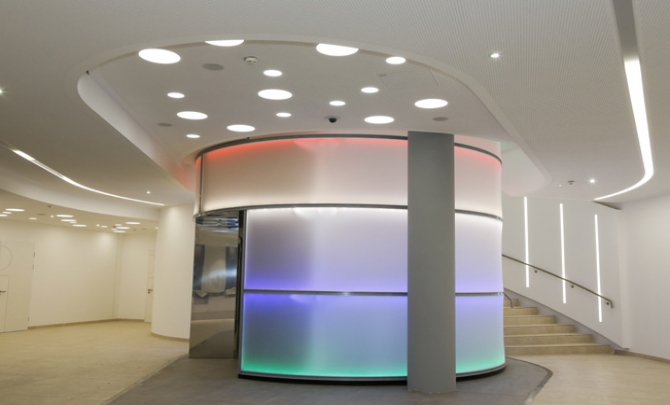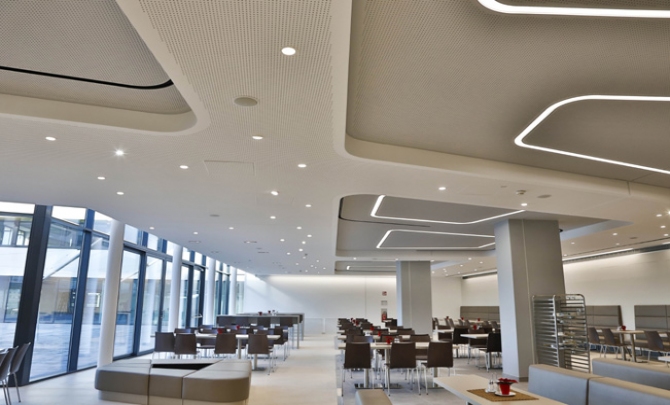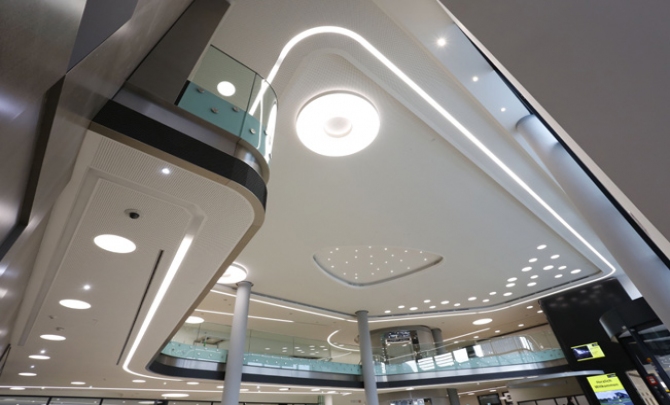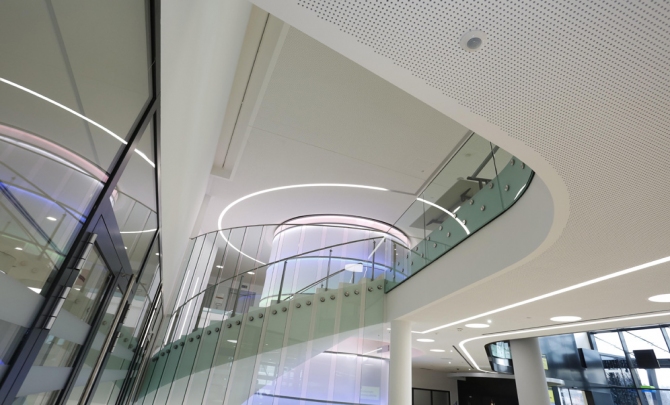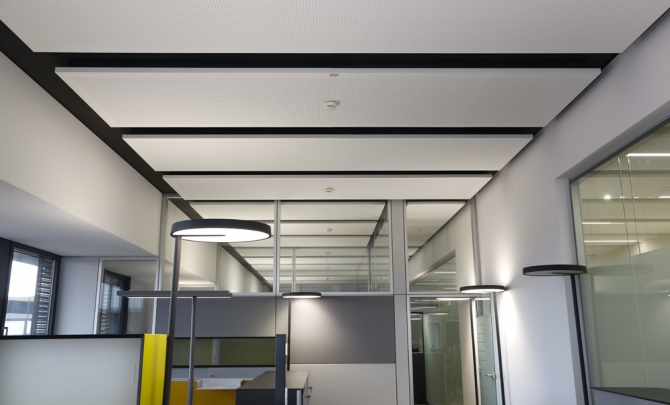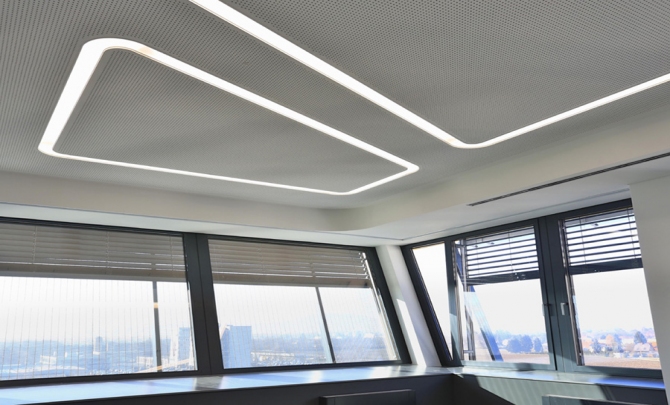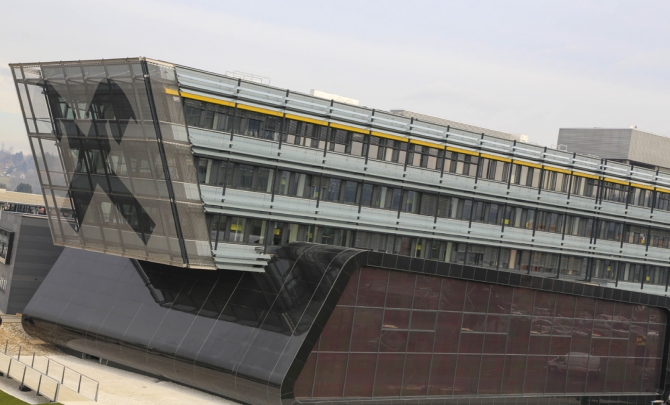 Brilliant Acoustics
The new building of Raiffeisenlandesbank (RLB) in Graz-Raaba is a masterpiece thanks to its ceiling system. It is a successful mixture of floating ceilings and acoustic design ceilings produced by German manufacturer Vogl Deckensysteme.
Not far from the Graz motorway junction, the market town Raaba in Styria is located. There, the new building rises above its flat surroundings. It was planned by the Graz architectural firm Architektur Strohecker ZT GmbH. The company Lieb Bau Weiz was responsible for the dry construction work, with Stefan Luisser, as site manager, and his co-worker Norbert Schantl, responsible for technical operations, in charge. IVG, Immobilien Erwerbs- u. Vermietungs GesmbH, Graz, as builder was responsible for the smooth progress of the construction.
Dry construction at its best
Dry construction work took 13 months. Not only acoustic design ceilings meeting the demands of function and aesthetics were used. In particular floating ceilings, which are the gold standard of modern ceiling design, were installed on a surface of 5,000 m². Project consultant Christian Schramm of M2 SYSTEME akustik. klima. licht. e.U. from Traunkirchen explains: "This construction project comprised the use of different materials for the floating ceilings, such as wood, metal and plasterboard. Lieb Bau Weiz themselves manufactured sample plasterboard floating ceilings with an unperforated edge and a surrounding edge. The German manufacturer Vogl Deckensysteme was able to provide the elements with unperforated edges prefabricated ex works.
The dry construction contractor used VoglFalt-Fix in order to achieve nice corners and edges. "Many dry construction contractors like using this product since it allows the job to be done effectively and accurately in a very short time and provides perfectly finished edges", describes product manager Benedikt Roos from Vogl Deckensysteme. This is a pre-cut plasterboard panel with one or more 90° V-grooves to which a VoglFalt-Fix adhesive tape is mounted. All it takes at the construction site is to peel off the covering film and fold the two limbs of the component together. Applying gentle pressure is enough for the strip to hold. A great benefit of this glueless bonding: Priming and drying times are a thing of the past. In the end, the middle section of the floating ceilings, which are composed of two elements, was filled. "We can only recommend this solution to other dry construction specialists since it requires very little installation effort", says Mr. Luisser.
Type of object: Office
Vogl products: Acoustic Ceiling Systems, VoglFuge, Acoustic Floating Ceiling, VoglFaltfix
Photographer: Walter Henisch
Completion: 2014
Architects: DI Strohecker GmbH, Graz
Drywall contractor: Lieb Bau GmbH, Weiz
Sound absorbing and air purifying
Using the Compound Seam system, Vogl acoustic design panels were mounted on an area of approx. 4,300 m² to an even ceiling framework with integrated light elements. Furthermore, the VoglFuge system was installed on an area of approx. 1,260 m². Different round perforation patterns and therefore different perforated areas were used. "We recommend Vogl ceiling systems with air purification effect for large rooms, because they do not only absorb noise but also purify the inside air. Noise reduction and a pleasant room climate have far more importance in interior design than you may think", explains Mr. Roos.
An ideal room climate is achieved by the interrelation of temperature, humidity, air quality and air movement. Humans, whose body consists largely of water, are most comfortable in an air mix of 78% nitrogen, 21 %oxygen, 0.03% carbon oxide and 0.93% noble gases. Add a room temperature between 21°C and 22°C to that and we can perform well. For example, a person with sedentary occupation evaporates almost one litre of water, an active person up to 2.5 litres, per day. Then again, we do not have a sensorium to recognise relative humidity. Relative humidity is between 20 and 70 per cent in normal interiors. A humidity of 50 per cent would be ideal.
The German manufacturer offers a varied range of products for the room-closing element in which all components perfectly match each other. This guarantees easy installation, best processing and reliable results. This turns ceilings into eye catchers and thus increases the usefulness of a building with form, colour and functionality.